88: BRINGING UP BABY
Directed by Howard Hawks
Written by Dudley Nichols and Hagar Wilde
Starring: Katharine Hepburn, Cary Grant, Charles Ruggles, Walter Catlett, May Robson, and Fritz Feld
AFI Top 100 Criteria:
Critical Recognition
:
Formal commendation in print, television, and digital media.
*
95% on Rottentomatoes.com
*"
Though it's almost impossible, try to sit back sometime and enjoy this 1938 Howard Hawks masterpiece not only for its gags, but for the grace of its construction, the assurance of its style, and the richness of its themes." -Dave Kehr, Chicago Reader
*"
The speedy, 102-minute film is a total delight, and the performances are so invigorating that it can withstand many multiple viewings without losing its sparks." -Douglas Pratt, Hollywood Reporter
Major Award Winner:
Recognition from competitive events including awards from peer groups, critics, guilds, and major film festivals.
Popularity Over Time:
Includes success at the box office, television and cable airings, and DVD/VHS sales and rentals.
*
Budget: $1,073,000 (estimated)
*BRINGING UP BABY was an infamous box office catastrophe, causing Hawks to be fired from his next RKO and forcing Hepburn to buy out her contract. As time went on, however, the movie is now considered to be a classic ahead of its time, and it continues to generate revenue for Hepburn's estate.
Historical Significance:
A film's mark on the history of the moving image through visionary narrative devices, technical innovation or other groundbreaking achievements.
*Director Hawks has recycled the nightclub scene in which Hepburn's dress is torn and Grant walks behind her in his 1964 comedy MAN'S FAVORITE SPORT.
*In 1972, Peter Bogdanovich adapted the film as WHAT'S UP, DOC?, and in his commentary track for BRINGING UP BABY, Bogdanovich discusses how the coat ripping scene in his movie was based directly on the scene in which Grant's coat (and then Hepburn's dress) is torn in BABY.
Cultural Impact:
A film's mark on American society in matters of style and substance.
*In 1990,
Bringing Up Baby
was selected for preservation in the National Film Registry by the Libaray of Congress as being "culturally, historically, or aesthetically significant".
Jonesy:
One wonderful aspect of this countdown is I am able to see the where modern day movie genres stem from. For the classic BRINGING UP BABY, we're treated to the old-fashioned romantic comedy. The story is fairly formulaic...opposites attract, crazy antics ensue, they eventually fall in love. It's the standard formula, but when given the right concoctions, formulas work. Now, the question is whether it works here? Some obviously believe it does because it made the countdown. However, I do not think this movie works.
Overall I was put off by the sheer shrillness of Hepburn's character. Her "free-spirited" Susan doesn't come off as a free-spirit to me at all but rather an eccentric, harpy mess. She acts like a six year old in a woman's body. Her over the top performance doesn't fit with the rest of the film, and I was constantly taken out of the story. Now the story itself is a bit of stretch; all of the action takes place within a day before Grant's big wedding. However, because of some snappy dialogue, most of the plot is forgivable, until Baby shows up. I can go along with most anything as long as I buy into the world the film creates; however, I could not buy into that plot point. Maybe that was a common practice to send relatives tame leopards back in the day, but I don't remember those stories from my great-grandparents growing up.
The strength of the film was Grant's performance. He is such a force on screen with his dramatic roles, and seeing him as a meek and more vulnerable character was refreshing. I enjoyed every minute he was on screen, and I was beside myself because I was in disbelief that he would fall for someone like that harpy shrew!
Maybe this role was just a wrong fit for Hepburn. She's known for her more dramatic performances, so I'm willing to give her another shot when we watch THE PHILADELPHIA STORY. As for BRINGING UP BABY, I can definitely leave this movie and never watch it again. My absolute least favorite by far.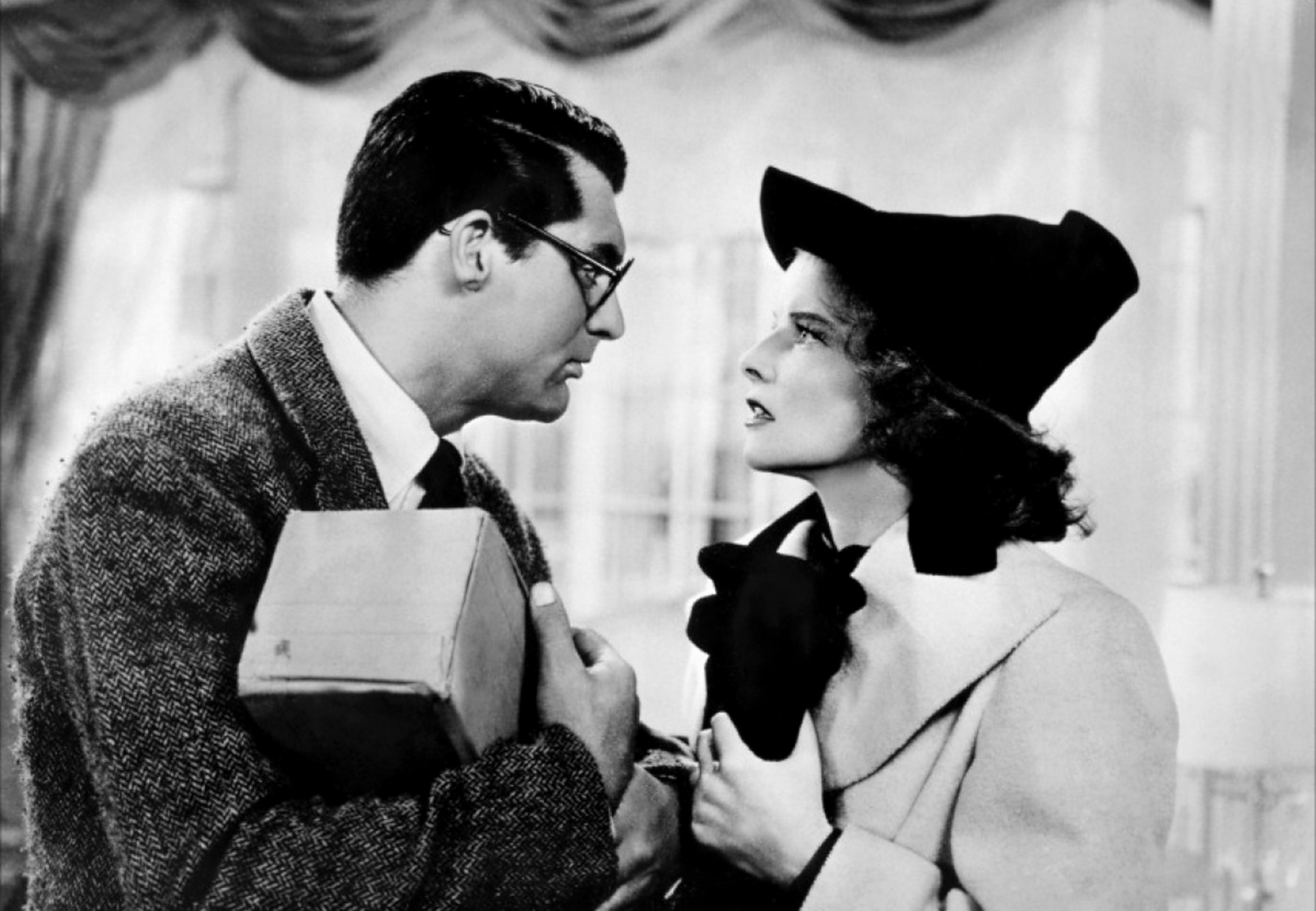 Javi:
Ever since watching Charlie Chaplin's MODERN TIMES, I have been slightly more appreciative of older humor where the set up might be silly, but it's well written and well executed. BRINGING UP BABY was such a movie. It was a delightfully silly movie with two charming characters in Katherine Hepburn and Cary Grant, with Hepburn playing a deceptively intelligent and aloof, Susan Vance, and Carry Grant as the uptight Dr. David Huxley
By now, having two horribly mismatched duos, whether they're romantic or otherwise, feels like an old comedy staple being used as recently as this year's atrocious DUE DATE, but this movie makes it feel as new as can be. The set up is a bit ridiculous with the perpetually aloof Susan ruining Dr. Huxley's day, while he tries to set up the grant of a life time for his museum. From there, we get to the point of Susan coercing Dr. Huxley into helping her with her newly acquired cougar Baby.
The sheer strength of this movie is the writing. All of the jokes and the dialogue and the humor mostly comes as courtesy of Mrs. Hepburn. There is a wit and cleverness that is very reminiscent of the humor seen in some of the better comedy shows of our time such as Arrested Development or 30 Rock, where the humor is the dialogue ant not always some ridiculous over-the top accident. I found Grant a rather understated but suitable counterpoint to Hepburn. I will say, it's a shame that the majority of humor does come from her and not Mr. Grant; he is there merely to react and be astonished at all of the non-sense that's going on around him thanks to Susan. And if there is something to complain about, it is the rather episodic nature of the movie. At times it does fee like a bit of a sitcom that just happens to run together for 90 minutes.
As the countdown continues, I keep on being impressed by the magic of writing and what it can do for a script. BRINGING UP BABY has a lot of elements that feel cliché and have been done over and over again since the original came out, but it makes it work.
Tweet